Community Service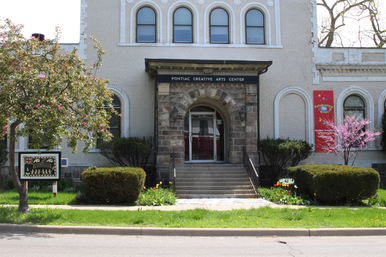 The Pontiac Creative Art Center was constructed in 1898 as the first public library built in Oakland County Michigan. For the past 50 years it is served as a center for community arts. Offering painting, ceramics, dance, and much more.

The Detroit Area Woodturners in conjunction with the Pontiac Creative Art Center have offered their expertise to teach woodturning classes for the center. This provides an opportunity to teach the local community about woodturning and to demonstrate how it can be taken from a craft to an art form.

It has been a long journey preparing for these classes. Many items needed to be accomplished; rehab a storage room and a darkroom into one cohesive woodturning workshop, acquired the equipment needed to properly instruct a woodturning class, including safety equipment and individual hand tools. We asked our members for donations and we also requested donations through our list of vendors.

---
We would like to thank the following companies for their generous contributions to our educational endeavors with the Pontiac Creative Arts Center.
We encourage our membership to consider these companies when making their woodturning purchases.

Photo of the woodturning workshop.